---
Average nut quality of test trees.
# Nuts / lb.
% Kernel
Kernel quality breakdown
Specific gravity
Harvest Date
  
% Fancy
% Standard
% Amber
  
 
 
%
%
%
%
 
 
History
'Tejas' was selected from a 'Mahan' x 'Risien#1' cross and was released in 1973 by the USDA.
Comments
When the trees aren't overloaded, 'Tejas' produces an attractive, but small, nut. Unfortunately mature trees set very large crops and quality declines dramatically. Kernel yield of mature trees was low, primarily due to too many "OFF" years. Summer shaking might improve quality, but nut size is still too low to make this a profitable cultivar. 'Tejas' is not recommended.
Production record of test trees beginning in year planted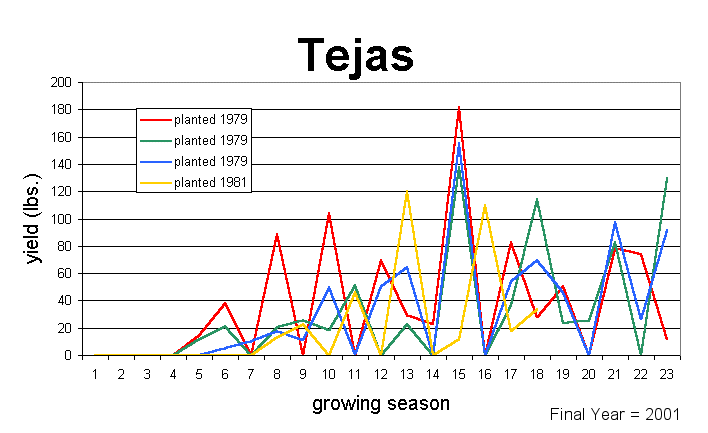 'Tejas' production from the Ponder Variety Grove test. Each colored line represents the yearly production in pounds of nuts from an individual tree beginning the year planted.
Alternate Bearing Intensity = 0.77